Bed and Breakfast
Thinking about a journey, it seems to me that I would like to have the possibility of living in a place, just like it's inhabitants, and I would also be able to have a guide which indicates me where to go outside the well known tourist routes, in places full of harmony within the local cultural identity.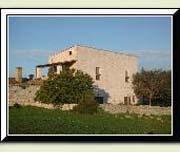 This is what I would like to find and this is what I'm offering, a really simple place where you can feel at home, a little info-point with books, maps, roadbooks, photos and some indications in order to enjoy Puglia with all its meanings.

We are placed in Conversano countryside, in a "masseria" with its fireplace, an old owen, a garden, olive, almond and cherry trees, an old wide oak, the court, a glicine trellis work, officinal herbs, mediterranean shrubs; I'm a botanic expert so I could talk about Apulian spontaneous flora for hours.
The sea is not so far from here. Few Kms and we are in Mola di Bari where we can buy some fresh fish, in a market where eyes shines for all the wonderful colors in it, where you can taste and smell sea scent and ears wake up to fishermans loud voices.

A little bit souther we find the magic harbour of Saint Vito, old ancient greek colony, on which rose up the roman Turris Caesaris.
Now-a-days we find a defensive tower rose up near the sea during '500 a.d. to enforce protection from Saracenian excursions, few little boats, a wonderful abbey church of norman period and a little harbour where princes Florenza's boat landed with the Saint's arm.
Every year during a 3 days fest (14-15-16 june), the Saint's arm, cames from the sea on a boat and it's brought to the church accompained by sounds of bands playing, fire-works and liturgical functions.

At least, Gisella's Bar: well known for the taste and smell of her "parmigiana" and a good glass of red "primitivo" wine; but this, is a kind of speech that has to be taken at dinner laying at fresh evening sea air.